GREEN ISLAND CAIRNS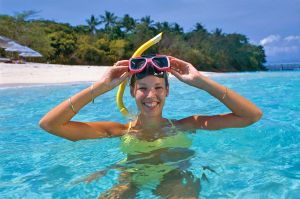 Green Island is a beautiful 6000 year old coral cay located in the Great Barrier Reef Marine Park, just 27km offshore from Cairns, and one of the most popular destinations on the Great Barrier Reef for visitors coming to Far North Queensland.
With travel time only 45 minutes by fast catamaran to Green Island, it makes for a great day out or convenient half day experience.
Green Island is home to the five star Green Island Resort. We have created some great value packages including Green Island accommdation and activites.
Looking for last minute ferry tickets?
We have last seat availability for the Green Island Ferry on our Tourism Town page. Check availability & book a day trip to Green Island
Check Availability Here
3 NIGHT GREEN ISLAND GETAWAY
The 3 Night Green Island Getaway Package offers unbeatable value, inclusions and relaxation.
3 Night Green Island Resort Getaway Package
3 Nights @ Green Island Resort
Full Day Outer Barrier Reef Tour
Full Buffett Breakfast Daily
Ferry Transfers from Cairns
Kayaks & Snorkelling Equipment
Glass Bottom Boat Cruise
Nature Walks & Sunset Drinks
Spend 3 nights on Green Island Resort including transfers from Cairns, full breakfast daily, watersports and a full day trip to the Barrier Reef!

Prices start at just $1746 for 2 Adults!

Call our local office on 1800 663 396 for more info or to make a reservation
More info on the 3 Night Getaway Package
GREEN ISLAND PACKAGES
GREEN ISLAND FERRY
There are a number of different day tour options for visiting Green Island. These include half or full day tours, travelling by high speed ferry, sailing on a 63 foot schooner and even helicopter to Green Island and cruising back to Cairns in the afternoon.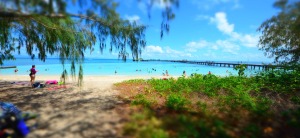 Other options not included in tours can still be organised once at Green Island. These include lunch, snorkel hire, glass bottom boat or semi-submarine tours, Sea walker, introductory or certified dives, parasailing, underwater observatory, entry to Marine Melanesia, canoe, windsurf and ski hire.
GREAT ADVENTURES
Great Adventures Green Island Eco Adventure
offers a Choice of three departure and return times daily by high speed ferry with the option of a full or half day tour. Tour includes tea & coffee, glass bottom boat tour or snorkelling equipment, use of visitor facilities which includes entry into the Green Island Resort swimming pool.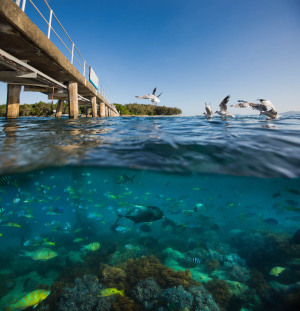 Great Adventures Green Island Discovery
Full day tour at Green Island travelling by fast catamaran, allowing 5 hours on the Island. Tour includes tea & coffee, glass bottom boat tour, snorkelling equipment, use of visitor facilities including Green Island Resort swimming pool.
Great Adventures Green Island and Outer Barrier Reef tour – Two hours at Green Island and then 3 hours at Norman Reef Pontoon on the Outer Barrier Reef. Tour includes tea & coffee, semi-submersible tour, snorkelling equipment, underwater observatory at Norman Reef Pontoon and a buffet lunch.
BIG CAT GREEN ISLAND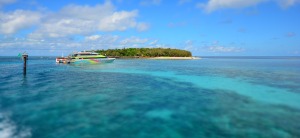 Big Cat is a comfortable air-conditioned 35 metre catamaran with spacious interior cabins and a relaxed atmosphere. Travel time to Green Island is just over one hour from Cairns.
Full Day Tour: Big Cat departs daily from Reef Fleet Terminal at 09:00am, returning at 5:00pm. Check-in half hour prior at the Big Cat counter.
OCEAN FREE TO GREEN ISLAND
Ocean Free is the only sailing option to Green Island. Ocean Free takes a maximum 35 passengers with a private mooring 1km off of Green Island. Spend your day snorkelling, swimming or diving directly off the 63 foot schooner. Ocean Free includes morning tea, snorkelling equipment and tour, wetsuit use, fish feeding, tropical fruit & cheese platter with a glass of wine on your journey home.
HELICOPTER TO GREEN ISLAND
Great Barrier Reef Helicopters fly one or both ways to Green Island with the option of cruising back to Cairns on the Great Adventures vessel. The 10-15 minute sea plane or helicopter flight to Green Island includes 2 or 4 hours on the island, BBQ lunch and semi-submarine tour.
THINGS TO DO ON GREEN ISLAND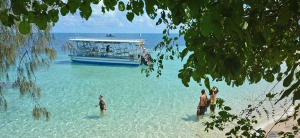 For a small island, there are so many activities and things to do! These include snorkelling, swimming, and scuba diving, parasailing or exploring the island further with a self-guided island walk.
If you are unable to swim or have small children, you can view the reef by glass bottom boat or semi submarine. If you want a less active day, perhaps visit the Marineland Melanesia which is home to Cassius the world's largest Crocodile in captivity. Shopping is also an option at the island resort shop and boutiques, or spoil yourself at, Oiled, the Green Island Massage centre.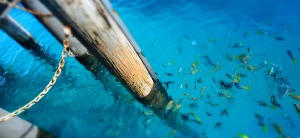 Being so easily accessible, Green Island is one of the most popular destinations on the Great Barrier Reef for visitors coming to Cairns and Far North Queensland. Green Island and the surrounding coral reef are a protected World Heritage Site, one of the seven natural wonders of the world.
Green Island Boardwalk
The Green Island Boardwalk is a leisurely 1.3km return taking less than an hour. The boardwalk access takes you through the national park forest to the south-east beach. A self-guided island walk brochure is available from the information centre for visitors to explore Green Island at their own pace.
Green Island Self-Guided Eco Walk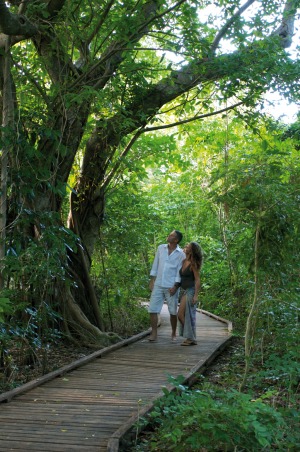 A map available from the information centre will point you in the right direction to start your self-guided Eco Walk. This trail guides you to numbered locations that explore the history of the island and informative facts about some of the 126 native species of plant life on Green Island. The walk has been voted one of Queensland's top bushwalks in the state giving people the opportunity to spot some of the 28 species of forest birds and 35 species of seabirds that live on the Island. The Eco walk takes less than one hour and the map is available in six different languages.
Swimming and Snorkelling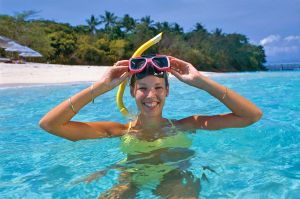 Green Island BeachA patrolled swimming area is provided on the northern side of the island near the beach hire hut. Snorkelling equipment is recommended to fully experience the beauty of the coral reef only metres off the beach.
Sea Walker
For a unique experience, you can walk on the bottom of the ocean without even getting your hair wet! Sea Walker is the perfect opportunity for people who cannot swim to be amongst the coral and fish life of the Great Barrier Reef. The easy to use equipment is a safe and natural experience walking on the sea floor that takes about 45-55 minutes and is fully guided.
Beach Hire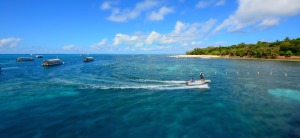 Hire of water sports equipment such as canoes and windsurfers, lockers, towels and umbrellas are available through the resort and beach hire hut.
Marineland Melanesia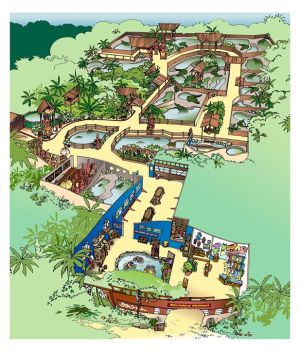 Marineland MelanesiaBuilt in the 1960's, Marineland Melanesia is the home to over 50 crocodiles, marine aquariums with saltwater coral, fish, and giant marine turtles. The main attraction is Cassius, the largest crocodile ever caught in Australia, who is over 100 years old. You also have the option to get your picture taken holding a baby crocodile, view over 100 species of marine life in the aquariums, or see the large collection of primitive art and marine artifacts. Marineland Melanesia is located just a short walk from the Resort.
Resort Shops and Cafes
Green Island offers a wide range of shops that sell souvenirs, gifts, clothing and swimwear. Some of the shops and cafes on Green Island include a dive shop, Island Boutique, Resort Spa, Sandwich bar, Canopy Grill, Ice-cream shop, poolside bar and award-winning Emeralds restaurant.
GREEN ISLAND RESORT
Green Island Resort is a luxury haven, with just 46 suites that are nestled within the rainforest on the small coral cay and cleverly secluded from the day visitor facilities.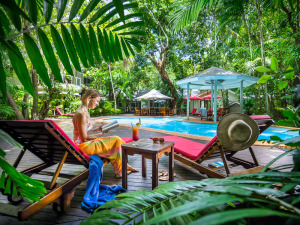 There are two styles of accommodation - Reef Suites and Island Suites.
The Reef Suite is perfect for honeymooners and couples looking for a romantic escape. These split-level luxury suites are spacious in size and features a large king size bed, spacious lounge area, separate bath, shower and private balcony.
The luxury Island Suite is spacious at 56 square metres. Featuring a king bed, separate bath and shower, and private balcony. The Island Twin Room features two double beds and provides an ideal tropical island family escape.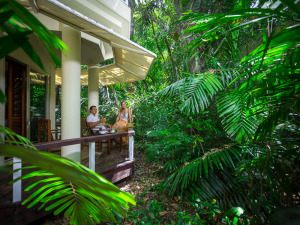 Green Island Resort has been awarded Advanced Ecotourism Certification for preservation and their commitment to the island's surrounding rainforest and reef, and the management of this eco-sensitive resort.
The 45 minute walk around Green Island is a popular choice for resort guests. The Eco-walk and walking around the Island are the best way to experience the magic that lives amongst Green Island including the native plant life, the diversity of birds, insects and other wildlife that make Green Island home.
GREEN ISLAND HISTORY
Green Island is actually a 12 hectare coral cay that is over 6000 years old. A coral cay is a sandy island formed on the surface of the coral reef over thousands of years.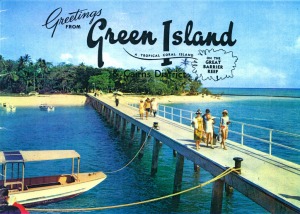 History of Green Island CairnsGreen Island was the result of the ocean currents build-up of sand and coral rubble deposited on the calm side of the platform reef, and is now the only coral cay on the Great Barrier Reef that is covered in rainforest!
Green Island became a national park in 1937, a marine park in 1974 and protected as part of the Great Barrier Reef World Heritage Area in 1981. The Great Barrier Reef has over 400 types of corals and 1,500 species of fish. It is common for visitors to Green Island to swim only metres away from Green and Hawksbill turtles just off the beach, which are endangered species. The island also has a wide diversity of bird and insect life which live inside the tropical vine forest that covers the island.
The Aboriginal people, the Gungandi people know the island as Wunyami. They still maintain a close connection to the island and reef which were used as an initiation ground for young men in the past.