Seawalker Green Island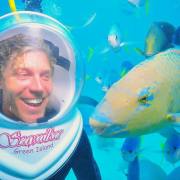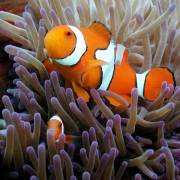 Seawalker Green Island
Seawalker
Perfect for non-swimmers
No experience is needed
FROM $185 PER PERSON
---
Inc. all levies & taxes

Seawalker Green Island Info
SEAWALKER at GREEN ISLAND
Seawalker at Green Island is quick, easy, and there's no need to learn how to use complicated equipment.

No experience is needed, and because you walk on the smooth, clean sand of the sea floor, it's perfect for non-swimmers or anyone who might not be confident in water!
It's quick – 45 to 60 minutes from start of guest briefing until finished and back on dry land.

It's easy – no new skills to learn, no swimming, no equipment to manipulate or get in the way.

It's safe – the guides are always in the water beside you to ensure it is great for non swimmers or anyone else who is not confident.

It's low stress – no complicated equipment to use, no water on your face (you can wear glasses or contacts), your makeup stays on and your hair stays dry!

It's a natural experience on The Great Barrier Reef – guests walk on the sea floor and are completely surrounded by colourful fish and coral.
One of the great advantages of the Seawalker Helmet is for those who wear glasses or contact lenses, you can wear them on your Seawalker adventure as your face stays dry.
TRIP DETAILS:
Simply purchase your ferry transfer ticket to Green Island by Great Adventures or Big Cat.
When you arrive meet a Seawalker representatives onboard or at the Seawalker Counter in the Green Island Dive Centre.
After a simple and informative briefing on this unique experience you are transferred from the beach aboard a shuttle boat to the Seawalker Diving Support Vessel anchored only 3 minutes offshore from Green Island.
Waiting at the top of the ladder, the Seawalker helmet is placed onto your shoulders. For children or adults with a smaller build, a collar is placed on their shoulders first to provide a more comfortable fit.
With a Seawalker Guide by your side, you climb down the ladder and start your underwater adventure.
After descending about 4-5 metres you are accompanied by your Seawalker Guides on your first steps underwater.
Walking on the sea floor brings you up close and personal with some of the animals that makes the Great Barrier Reef so special.
After 15-20 minutes which will leave you with some wonderful memories, you are climbing the ladder back to the surface and your quick return to the island beach.
Free time on Green Island to swim and explore or sit back and relax
PLEASE NOTE:
The minimum age for Seawalker is 12 years.

Certain medical conditions, medications and height restrictions may preclude some people from participating.

After a single dive a wait of 12 hours is recommended before ascending to an altitude of 300 metres or greater.