6 Tours Found
We found 6 tours
Green Island Heli Packages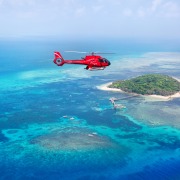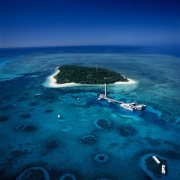 Green Island Heli Packages
Great Adventures Green Island Heli Packages
Fly to iconic Green Island for the day
or, Add a scenic heli flight from Green Island
Tours to Green Island
Green Island has been a popular day visitor destination for generations, and features a wealth of activities to maximise your Great Barrier Reef experience. Snorkel, dive and swim in the clear island waters, view the spectacular reef on a coral viewing tour, explore the National Park or simply relax on the sandy beach.
There are a number of departures daily to Green Island. Choose from a half day or full day experience, travelling by high speed ferry or sailing on a 63 foot schooner.
For those short of time you can even take a scenic helicopter flight. Activities not included in the tours can be organised once at Green Island, these include lunch, snorkel hire, glass bottom boat, semi-submarine tours, Sea walker, introductory or certified dives, parasailing, entry into Marine Melanesia, kayak, windsurf and sun lounge hire.
Families love Green Island. Together you can take the glass bottom boat tour, try snorkelling or just wading in the shallow water and enjoy playing on the beach.
You can also take a leisurely stroll through the rainforest to the colourful interpretive centre. There are also some optional activities at an additional cost you might like to try on the island.
Marineland Melanesia is a crocodile and marine life habit with a small museum. They have a daily crocodile feeding show - you can even have your photo taken holding a baby crocodile which the kids absolutely love!
Great Adventures
Great Adventures Green Island Eco Adventure offers a choice of three departure and return times daily by high speed ferry. You can choose the option of a full or half day tour which includes tea and coffee on boarding, choice of glass bottom boat tour OR snorkelling equipment, and use of visitor facilities on the island, which includes entry into the Green Island Resort swimming pool.
Upgrade to the Great Adventures Green Island Discovery package and enjoy a full day which allows 5 hours on the island and includes ferry transfers, tea and coffee, glass bottom boat tour AND snorkelling equipment, use of visitor facilities including Green Island Resort swimming pool. Departures from Cairns are at 8:30am, 10:30am and 1:00pm. Departures from Green Island are at 12:00pm, 2:30pm and 4:30pm.
The Great Adventures Green Island and Outer Barrier Reef tour offers the best of both reef and island, combining two hours at Green Island followed by 3 hours at Norman Reef Pontoon on the Outer Barrier Reef. The day includes tea & coffee, semi-submersible tour, snorkelling equipment, entry into the underwater observatory at Norman Reef Pontoon and a buffet lunch.
Big Cat Reef Cruises
Big Cat Green Island Cruises offer the choice of half or full day tours from Cairns on their air-conditioned catamarans "Big Cat" and "Reef Rocket".
Departures are at 9am, 11am and 1pm daily. Choose to snorkel, dive, or stay dry and view the spectacular underwater reefs in a semi submarine or glass bottom boat.
Half day tours depart Cairns at 9am and 1pm, and allow 2 hours on the island. Included is your choice of snorkelling equipment or glass bottom boat tour. Additonally you can also choose to add on a semi-submersible tour.
The full day cruise departs at 9am and allows for 5 hours on the island, arriving back into Cairns at 5pm, or you can choose to have 4 hours on the island departing at 11am, both returning at 5pm.
Standard inclusions are the choice of snorkel equipment or glass bottom boat, in addition you can choose to add on a buffet lunch and semi-submersible tour.
Ocean Free Sailing
Ocean Free is the only sailing option to Green Island. Step onboard this beautiful 63 foot schooner for a personalised day to the Great Barrier Reef, where the engines really do get switched off (wind prevailing).
Ocean Free takes a maximum 25 guests with a private mooring 1km off of Green Island. Spend your day snorkelling, swimming or diving directly off the boat and/or Green Island. This tour includes morning tea, snorkelling equipment and tuition, tropical smorgasbord lunch, tropical fruit and cheese platter with a glass of wine on your journey home.
Ocean Free provides tender transfers to Green Island throughout the day, so you can spend time on the reef and Green Island.
Scenic Heli Flights
Choose from some wonderful scenic heli flights from Cairns, including a 30 minute Reef Scenic Flight that takes in some of the best sights of the region including Green Island. 10 and 15 minute scenic heli flights from Green Island are available on demand, or for the ultimate reef experience combine a day out to Green Island and the Outer Reef with a scenic heli transfer either to the reef or return.